THE DANCING DUO
Natyacharyas
Narasimhachari
& Vasanthalakshmi
Narasimhachari and Vasanthalakshmi are well-known and highly respected performers, teachers and choreographers of the Bharatanatyam and Kuchipudi styles of Indian classical dance. Together this 'Made for each other couple' (as the press often refers to them) established Kalasamarpana Foundation, an academy for the propagation and promotion of the fine arts, in the year 1969. They have produced more than thirty-four dance dramas and thematic presentations and have enriched the art world with inimitable artistic creations.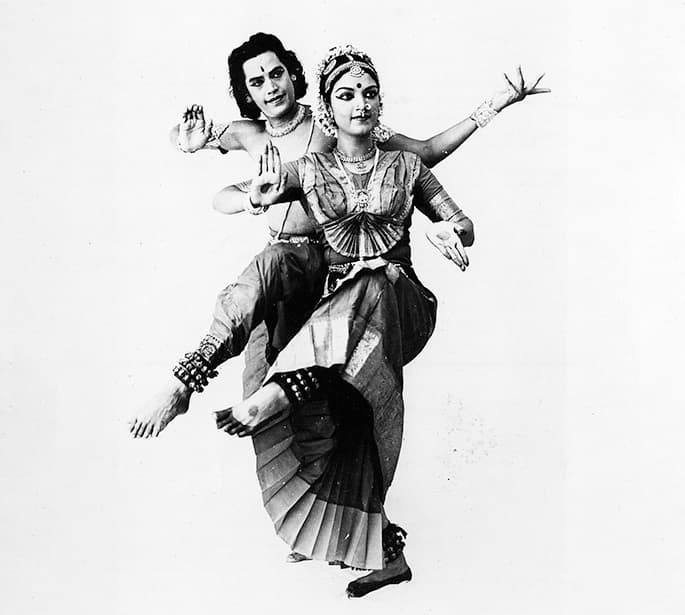 Formal Training
Classical Art
While Narasimhachari trained in Bharatanatyam from Kalakshetra, Vasanthalakshmi had her initial training from Sri Bhoopal, Sri. Adyar K. Lakshman and finally from Narasimhachari himself.
The duo trained in Kuchipudi from the legendary Sri. P.V.G.K.Sharma, Sri. Mahankali Satyanarayana and Sri C.R. Acharyulu. The Narasimhacharis then learnt some rudiments of Odissi from Sri. Ramani Ranjan Jena, Kathak from Sri Vishnu Vaichalkar, Mohiniattam from Smt Vasantha Aravind and Kathakali from Prof. Janardhanan.
The Charis have travelled extensively both in India and abroad (Mauritius, Burma, West and Central Africa, Middle East, North America, Europe, Singapore, Malaysia, Russia to mention a few). They were on the faculty of the U.C.O. (University of Central Oklahoma) from the year 1995-1999.
Exposure to such varied classical art forms has enriched their choreography. The Narasimhacharis have enchanted audiences both in India and abroad with their beautiful technique, sensitive expression, original choreography and sincere devotion to the art. Their presentations are visual wonders creating on stage unforgettable images of human life.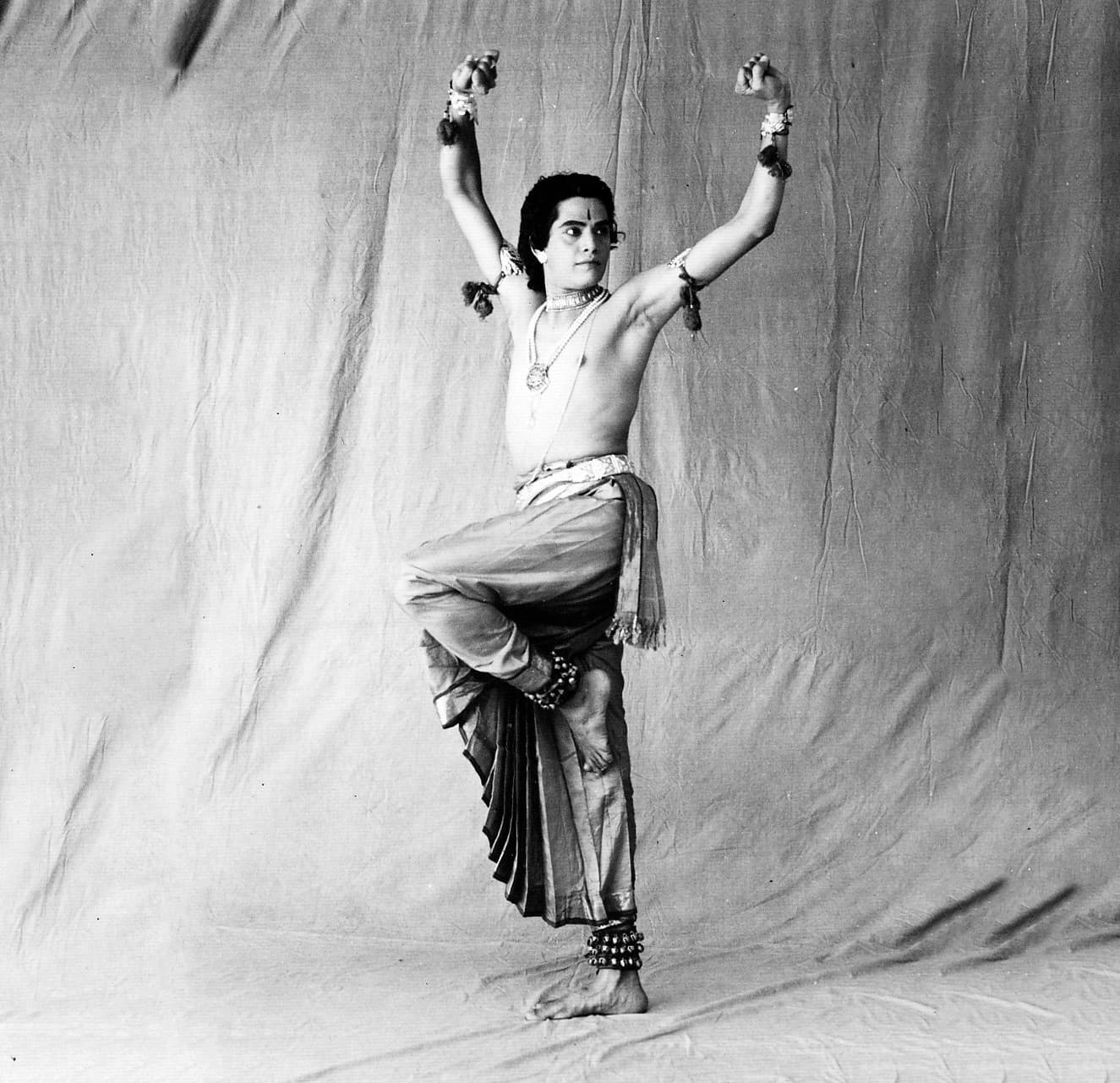 Maranganti Venkata Narasimhachari was born in Rajahmundry a beautiful city on the banks of River Godavari. His father Sri Maranganti Satyanarayanachari was an artiste par excellence and was his first teacher. Little Simham, for that was how Narasimhachari was lovingly addressed, was only five when he gave his first performance with his elder brother Anand.
This happy scene changed with his father's sudden demise.... Read More
While Anand took on odd jobs to support the family, Narasimhachari with the help of his uncle Sri Ramachari, a renowned critic and journalist of the time, revived the Burra Katha, a ballad form of Andhra Pradesh.
Along with his younger sister Lakshmi and brother Krishna he formed a troupe called 'Simham and Party' and performed Burra Katha-s winning accolades from the likes of Babu Rajendra Prasad, Uday Shankar and Harindranath Chattopadhyaya. The trio very soon became the most popular group in Andhra Pradesh, so much so that they had the honour of performing for the then President of India, Dr.Rajendra Prasad. They called themselves "Simham & Party! As a student of the first batch at the Music College of Tirupathi, Narasimhachari had the privilege of learning from stalwarts such as Chittore Subramaniam Pillai, Prof. Sambamurthy, D. Pasupati, S.R. Janakiraman and V.L. Janakiram, Mridangam from Shanmuganandam Pillai and Bharatanatyam from Smt Kanchanamala.
A turning point in young Chari's life was when Smt Rukmini Devi Arundale upon witnessing one of his performances invited him to join the internationally renowned Kalakshetra. So impressed was she that she even offered him a scholarship! While at Kalakshetra between the years 1962-67, Narasimhachari was trained in vocal music by the legendary M.D. Ramanathan and in Mridangam by Karaikudi Krishnamurthy. Smt. N.S.Jayalakshmi instilled in him the unique Kalakshetra Bani or style of dancing while Smt. Pushpa Shankar introduced him to the fascinating world of nattuvangam.
Narasimhachari graduated from Kalakshetra with a first class diploma and also obtained the Sangita Siromani degree from the Madras University.He is a singer par excellence and is a very popular concert musician. Narasimhachari is a multi-faceted artiste known for his technical virtuosity on the Mridangam. He is an Msc. in Yoga and has done extensive research on the use of yoga in dance. He has equipped himself with courses in Naturopathy, Homeopathy and Pranic Healing.
Narasimhachari, in collaboration with Dr.Samuel Magrill, Professor of Music, U.C.O, brought out the first and second volumes titled -Music of India. This series of four volumes explains from the basics to the concert level both theory and practical aspects in detail of South Indian classical Music in western notation, facilitate learning and comprehension to the Indian and Western students of Music. The two volumes of the series were prescribed for the music syllabus in the University.
A dancers' dancer and musicians' musician, Narasimhachari is a multi-faceted artiste also known for his technical virtuosity on the Mridangam. A lauded music composer, choreographer, singer, nattuvanar, mridangam player, concert musician, performing artiste of Bharatanatyam and Kuchipudi and a guru of outstanding capacity, Narasimhachari was the president of ABHAI (Association of Bharatanatyam Artistes of India) for nine years.
Read Less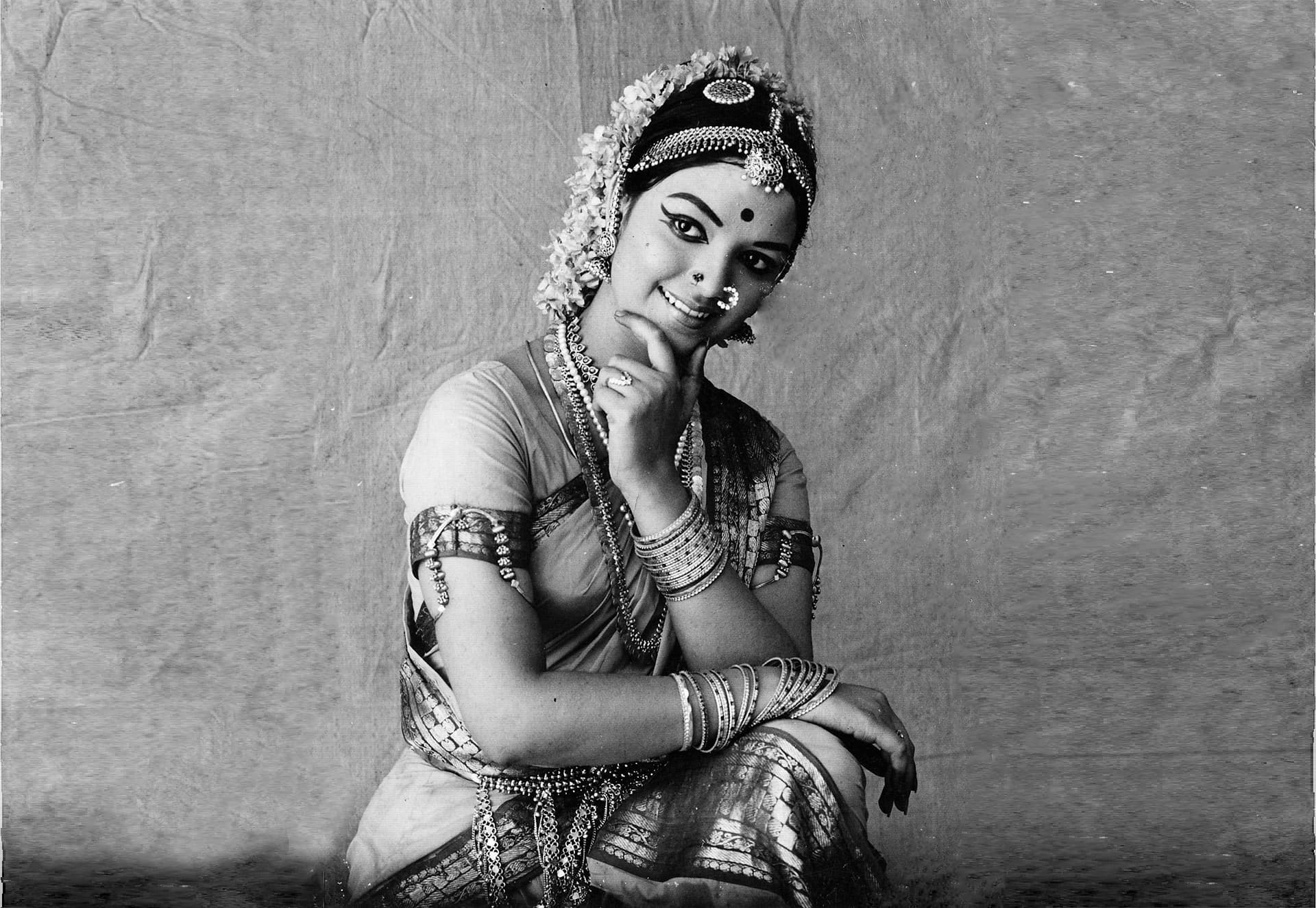 Vasanthalakshmi, who began her career in dance at a very young age, had her initial training from Sri Bhoopal, Sri. Adyar K. Lakshman and finally from Narasimhachari himself. She joined Narasimhachari as his wife and partner in the year 1969. She is not only a professional dancer and acharya par excellence of both Bharatanatyam and Kuchipudi, but a gifted linguist, lyricist and an accomplished nattuvanar.... Read More Her perfect diction of complex rhythmic syllables is a treat to the learned ear. She has to her credit, several Sabdams, Padams, Varnams and Mangalams. Amongst the proof of her expert penmanship are the very unique and critically acclaimed Varnams; one set to the raga Shanmukhapriya and Khanda Nadai Adi tala on Lord Subrahmanya and the other set to Keeravani on Lord Krishna for which she also composed music. She is also a proficient vainika who trained on the Veena under Smt. Kamala Aswathama and has enthralled audiences with her sweet command over the instrument. Known for her extraordinary creative brilliance, Vasanthalakshmi's expertise with the "Simhanandana Tala Chitra Nrithyam" in which the dancer draws the image of a lion with her feet has won her critical acclaim. In 2016, she brought out a full-fledged DVD "Simhanandini- the Dancing Lion" dedicated to the genius of Guru C.R.Acharyulu and in memory of Guru M.V.Narasimhachari. Read Less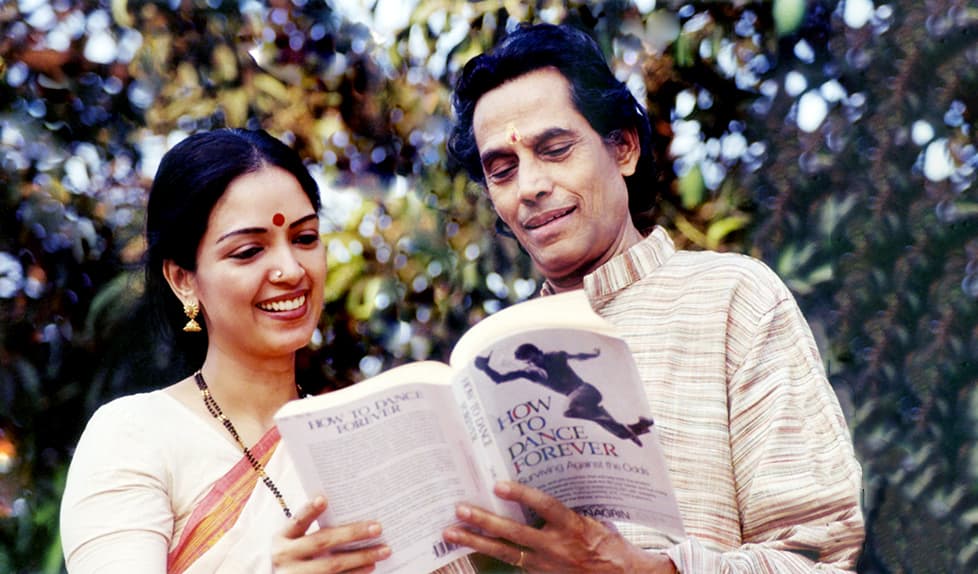 Academy of fine arts
Kalasamarpana Foundation
In 1969, The Narasimhacharis started the Kalasamarpana Foundation, an academy for the propagation and promotion of the fine arts, to disseminate the knowledge that they've been blessed with to generations of artists. The Narasimhacharis have travelled the world as cultural ambassadors showcasing the richness and glory of India in each of their performances, lecture-demonstrations and workshops.
The Narasimhacharis have worked together to build a life dedicated to the pursuit of excellence in classical arts.... Read More
Whether they perform for the sophisticated medium of television or in the simple atmosphere of a bare stage, what will always be evident is the freshness and originality of their dancing which is nevertheless firmly grounded in tradition and purity of true art. Their naturalness, sincerity and dedication to the best in Indian culture will commend them to audiences everywhere. Applying creativity and imagination they have shown that even non-traditional subject matter is suitable for entertaining, meaningful exposition through the medium of classical dance. Their contribution to the arts is not only reflected in their thirty-four full length dance dramas but also in the exclusive numbers that they have created for Bharatanatyam and Kuchipudi repertoires in both the solo and duet formats.
To those that loved and revered Guru Narasimhachari (1942 - 2015), he lives on in every piece of exquisite art that he has created. His legacy continues through the teaching and guidance of Guru Vasanthalakshmi. Daughters Lavanya and Lasya established, RASOHAM (www.rasoham.in) in the year 2007 as an organisation that pursues artistic excellence, taking art beyond the realms of entertainment. Their innumerable disciples across the globe have established their own schools of dance and music. Having inherited the core values of integrity and authenticity handed down to them by The Narasimhacharis, they practice art that is firmly rooted in tradition while striving to explore new frontiers.
Read Less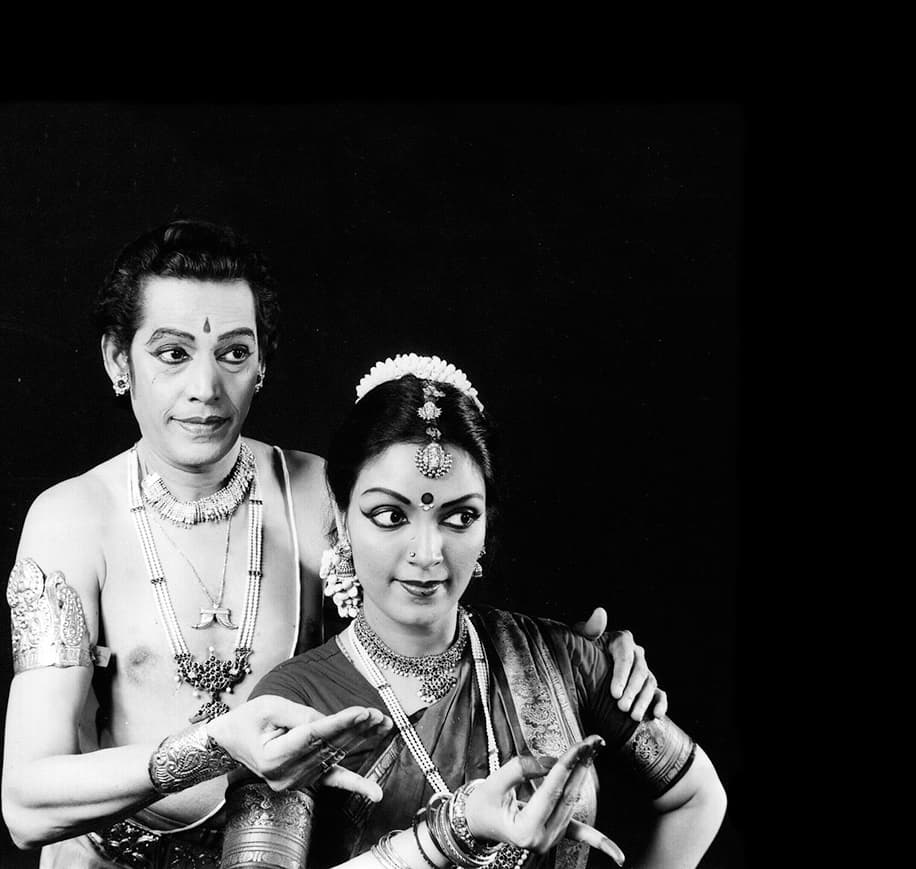 Tapas
For this couple, dance is a means to purify and strengthen their devotion to God – it is 'tapas', a spiritually meditative exploration of art and life.