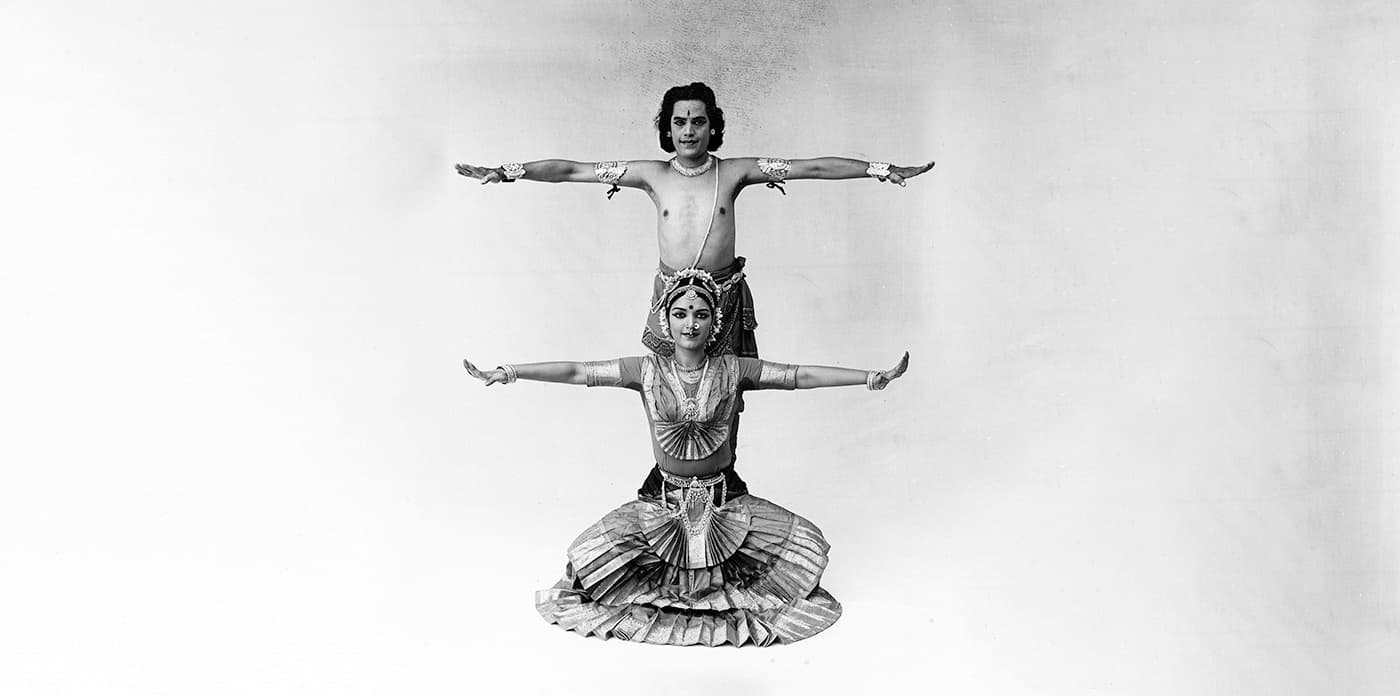 A glance at the list of dance dramas they have produced reveals the wide variety of themes and sources ranging from the mythological (Sivaleela and Kambaramayanam), the literary (Meghasandesa and Kalingathu-pparani), the biographical (Annamacharya and Yashodhara), the scholarly (Natya Veda) to the contemporary (Voice of Ganga and Bharathi kanda Bharatham). Applying creativity and imagination they have shown that even non-traditional subject matter is suitable for entertaining, meaningful exposition through the medium of classical dance.
Choreographic Creations List
Nrityankita - 1973
Girija Kalyanam - 1975
Krishnam Vande Jagadgurum - 1980
Annamacharya - 1981
Siva Leela - 1981
Bharati Kanda Bharatam - 1982
Bharathi Kannama - 1984
Kambaramayanam - 1985
Yasodhara - 1985
Vasavadatta - 1985
Manimegalai - 1986
Megha Sandesa - 1987
Kalingathu-pparani - 1988
Voice of Ganga - 1989
Sri Godha Charitamu (Andaal) - 1989
Ritu Samhara - 1991
Jesus Christ - 1992
Natya Veda (Vision of Bharatha) - 1993
Vikas Ki Chunaunthi (On Corporate Values) - 1993
Saranam Aiyappa - 1994
Leeye Parabrahmani - 1995
Pallaki Seva Prabandham - 1996
Asathoma Sadgamaya - 1998
Tri-bandhi (presenting three major classical dance styles of South India – Bharatnatyam, Kuchipudi and Mohiniattam.) - 1998
Ainthinai (Sangam Poetry) - 2000
Man – Yesterday, Today, Tomorrow (on present Economic, Political and Social conditions) - 2001
Viswa Sakshi - 2002
Tirukkoneswaram (A dance drama on the manifestation of Lord Shiva in Sri Lanka & was performed at the Queen Elizabeth Hall, London) - 2002
Landscape of Emotions - 2004
Subhashitham - 2005
Manjanatti (Contemporary Poetry) - 2009
Saranu Venkata Nayaka - 2010
Bharatham Kathai Kathaiyaam (Contemporary Short Stories) - 2011
Karuna Shakti - 2014
Bharatanatyam Exclusives
Apart from these full length productions, The Narasimhacharis have, to their credit, several varnams, thillanas and other dance compositions. The Sooladi Saptatala Pada Varnam- a dance dedicated to the life and work of Smt. Rukmini Devi Arundale is the first of its kind in the Bharatanatyam repertoire. Another unique varnam is on Lord Subrahmanya set to raga Shanmukhapriya and Khanda nadai Adi tala. Smt Vasanthalakshmi is also a gifted lyricist and has penned the words to a number of pieces that were set to music by Guru Narasimhachari. These include, Shabdhams on the life of Lord Aiyappa, the Buddha, Navarasa Varnam depicting the entire Ramayana in Nine Rasas (Emotions) and Keeravani Varnam on Lord Krishna. Among their numerous thillanas, their Hindolam Thillana (Inspired by the Shahnai Maestro Bismillah Khan's Malkaus) is one that comes to mind.
Kuchipudi Exclusives
The Narasimhacharis are also known for their exclusive dances in Kuchipudi – Ravana Mandodhari, Prahlada Charitham, Tarangam (the famous plate dance) and Simhanandini – a unique number belonging to the ritual dances of the temple in Andhra Pradesh. In this, the dancer draws the figure of a lion with her feet. Simhanandana tala which takes 128 beats for one cycle is the longest tala in the Indian tala system. They have researched and worked on some special Kuchipudi numbers such as Naa Hrudaya Peetipai, Jathikattu, Sivaleelalu but are also known to have added some exclusive pieces to the repertoire such as Subhadra-Arjuneeyam, Mohini Bhasmasura (music by Dr.M.Balamuralikrishna), Paravasapradam (based on the 11 aspects of Natya Sastra) and the Ashtavidha Nayika Padam.
In the year 1981, The Narasimhacharis had the opportunity to learn the Mayura Kouthamu and Simhanandini- the ritual dances of temples from Guru C.R.Acharyulu. Vasanthalakshmi Narasimhachari brought out a full-fledged DVD "Simhanandini- the Dancing Lion" in the year 2016, dedicated to the genius of Guru C.R.Acharyulu and in memory of Guru M.V.Narasimhachari.